Our Products
How HUSKY TUBULAR INVERTER BATTERY is different from the various inverter batteries available in the market?
HUSKY batteries are optimally balanced between duration of back up and life cycle.
Batteries are assembled on latest and advanced machineries based on German technology. The battery plates are manufactured using high quality raw materials and proprietary additives to maximise battery life, improve heat dissipation, and reduce charging resistance.
High strength tubular plates are manufactured for elongated life. High tensile acid resistant bags are used for firm holding of active material.
The battery plates are well cured at appropriate temperature and humidity. This technique warrants long life (at times more than 5 years) and helps in easy charging of the battery. Moreover dry charged mechanism is applied on negative plates.
High quality PPCP Containers are used for better strength which make them leak proof. PE separator helps in reducing internal resistance.
The process of filling acid in the batteries is done using specialised chillers. Most advanced pulse charging technique is applied, that supports the battery in reaching its full backup very quickly. The technique also ensures that the battery temperature remains within the prescribed limits.
Before delivering the product at your door step, it undergoes various tests; apart from regular laboratory tests, strict quality protocol is followed. Each and every battery is load tested (at high rate) irrespective of its model.
Inverter Batteries
Our Inverter Batteries are reliable and meet frequent deep discharge efficiently. Powerful to last over months our batteries will ensure stress-free experience.
Automotive Batteries
Our Automotive Battery range is technologically advanced as per the requirements of your vehicles. We provide zero-maintenance and long-life batteries that gives you complete peace of mind.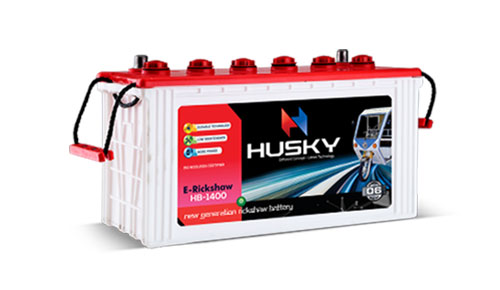 E-Rickshaw Batteries
Husky E-Rickshaw Batteries are specifically designed for maximum performance and reliability in application for the environment friendly e-rickshaws.
Solar Batteries
We provide easy and efficient Solar Batteries that are cost effective and highly reliable.